Discover more from Elemental Tours
Environmentally-themed walking tours of Manchester | A material and elemental focus: earth, air, fire, water | Think beyond the human
September News from Elemental Tours
Tours, pigeons, textile art, and a book suggestion!
We're running two tours this month, it's a bit last minute but you might be able to bag a spot!
Friday 29th September at 1pm: Building Manchester: A Historical Walking Tour of Manchester's Stone
Saturday 30th September at 1pm: More than a 'Foul Drain': Manchester's Water History
We have still have spaces available on our tours for October and November. For more info and Eventbrite links check out our website: https://www.elementaltours.com/
We will be announcing new dates for the winter months soon!
Our new blog
We are growing our online community and have started a blog on all things environmental in the city- and sometimes beyond!
The Elemental Blog shares stories of urban ecology, not only from the city of Manchester but from around the world. We will have guest writers talking about their ideas and projects, and we will fill you in on key ideas in the environmental humanities. All in a once a month few minute read!
Check out our first post on urban pigeons, including one that went for a swim in a canal.
https://elementaltours.substack.com/p/pigeons-cant-swim
---
Environmental Humanities in the community
So many people are doing exciting and creative work in the environmental humanities, so we thought we'd highlight as many as we can!
We love Aja Dawn's environmentally inspired textile art and we were thrilled to learn more about her work.
We love your yarn puffs. Can you tell us a little bit more about them?
"They take many hours to create. There is rarely a plan; they evolve as I make them. I find my materials from second hand sources. They are made to be touched!" 
Where do you find inspiration?
"I am inspired by colour and texture. A lot of that inspiration comes from nature, from the aerial view of trees and landscapes, to mould and moss." 
What role does the environment play in your process?
"I hope my art encourages people to look at the world from a different perspective. I want them to think about the environment we inhabit everyday, not to just simply live in it."
Thank you so much, Aja! If you'd like to learn more about Aja's work, do stop by her Instagram page: instagram.com/ajadawnart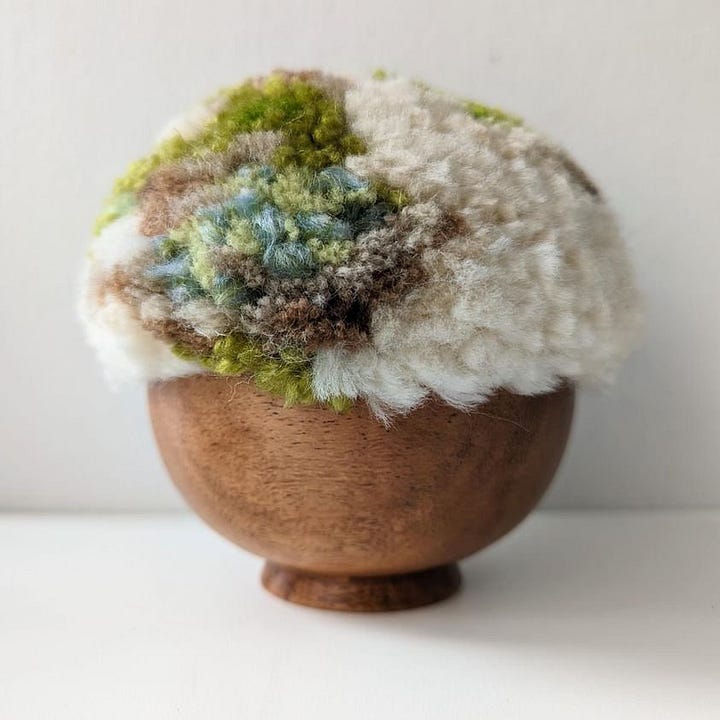 If you or anyone you know is involved in environmentally-focused art, storytelling, music, literature, theatre, handicrafts, gardening, or community organizing, let us know because we'd love to talk to you and share your story! Drop us a line via email: elementaltoursinfo@gmail.com
---
A recommendation for your next read
This September, our favorite book is Annihilation by Jeff Vandermeer (2014). With an unsettling atmosphere that reminds the reader of Cthulhu and other Lovecraftian horrors, Annihilation makes the reader question whether or not there is a boundary between humans and nature.
At the beginning of the novel, we learn that a biologist, psychologist, surveyor, and anthropologist are embarking on an expedition into Area X, a parcel of land set apart from the rest of the country by a boundary of some sort. We, the readers, don't know quite how large Area X is (it might even be expanding) nor precisely when or how it came into existence.

What we do know is that nature is behaving… oddly. Previous expeditions described the landscape as "pristine nature," and there are no pollutants in the air or water. But boars and dolphins seem to possess human-like self-awareness. And on the walls of a tower that burrows into the earth, an unseen hand uses fungi as ink to write chaotic poetry. The humans who enter Area X also start to behave… oddly as well, perhaps infected by whatever created Area X in the first place.

Annihilation is New Weird fiction, a subset of science fiction. It revels in explorations of the uncanny—that unsettling feeling we get when we know something is wrong, but we can't quite explain why we know that. In embracing the uncanny we can hone mental tools for living with climate change and sharing the earth with all forms of life.
Highlights from Elemental Tours social media
Check out some of our favourite Instagram posts this month: a ruin of a railway bridge on the River Mersey or the role Cheshire cheese played in starting Manchester's industrial revolution.
---