Discover more from Elemental Tours
Environmentally-themed walking tours of Manchester | A material and elemental focus: earth, air, fire, water | Think beyond the human
All the News from October with Elemental Tours!
Tales from the pavement, bog bodies and moss, a book on rivers, the Manchester Peace trail, and more!
A Solarpunk Rebrand!
Elemental Tours is part of a broader project run by Dr Erica Mukherjee and Dr Charlotte Coull to introduce people to the environmental humanities and urban ecology in an accessible way. So we're experimenting with our branding and going Solarpunk to create a look that inspires optimism and positivity. This will take a while, so bear with us while we negotiate graphics, fonts and all the other design goodness.
And what is Solarpunk? It's a vision of the future that is optimistic about how humans can sustainably interact with the planet. Key themes include renewable energy, harmony with nature (think plants everywhere), and equality. The 'punk' part is about shifting, changing, and subverting the systems that stop this future from happening.
We'll be exploring this more as our blog and Instagram grows, but if you want a bit more detail now, check out this tv tropes wiki: https://tvtropes.org/pmwiki/pmwiki.php/Main/SolarPunk
---
New Tour Dates
Our Winter tour dates are ready to go! All tours start at 1pm. For more info and Eventbrite links check out our website: https://www.elementaltours.com/
November: Friday 24th- Stone
Saturday 25th- Water
December: Friday 15th- Water
Saturday 16th- Water
(due to the Christmas markets we are only running our water tour in December to avoid crowds)
January 2024: Friday 26th- Water
Saturday 27th- Stone
February 2024: Friday 23rd- Stone
Saturday 24th- Water
---
Tales from the Pavement
Our October tours were the busiest yet! Two lovely groups braved the changing weather to hear tales of water and stone. We even got some pictures of the stone tour- thank you to everyone in that group for sticking with me through a very busy city centre!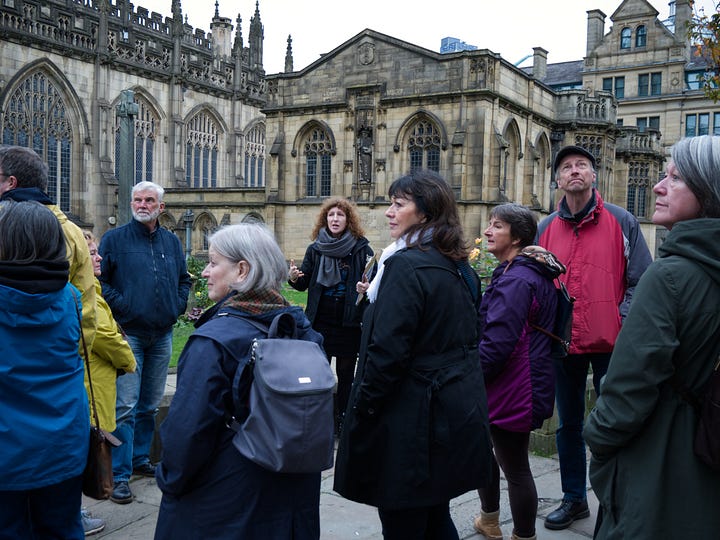 ---
Elemental Blog
This month's blog is by Erica, and really suits the wintery weather.
Did you know there was a bog body (human remains preserved under layers of peat moss) discovered near Manchester? In 1984 peat cutters discovered Lindow Man in Lindow Moss just south of Manchester.
Even though modern forensic science has used all the tools at its disposal to uncover the secrets of these bog bodies since the 1950s, they remain a source of fascination and (sometimes supernatural) horror today. Peat moss, the key component of the bog, has also been well-studied by bryologists. But just because we understand the science behind bogs and bog bodies, does that make them any less magical?
Curl up with a hot drink and find out: https://elementaltours.substack.com/p/the-magic-of-moss
---
Environmental Humanities Community Spotlight
This month Erica sat down to talk to Steve Roman, a Peace Trail walk leader, to talk about the origins of the Peace Trail Project, links between the environment and the peace movement, and what it's like to do history out of doors!
Below is the first question from their conversation- the full interview is here: https://elementaltours.substack.com/p/community-spotlight-manchester-peace
ET: What is the history of this project? Why does Manchester have a peace trail?
Steve: Manchester describes itself as a "city of peace." In 1980, it declared itself a nuclear weapons free zone, the first in the world. This was at the height of the Cold War when the government was issuing a booklet to every household saying that if a nuclear attack comes, create a shelter under your dining room table, take the doors off, and stock up on provisions to last three weeks. Ridiculous.
So Manchester and then several other municipalities declared themselves to be nuclear free zones. Then, in 1982, the mayors of Hiroshima and Nagasaki created the Mayors for Peace network, and Manchester joined up; it is now a vice president city.
In 1985-6, Manchester designed a Peace Garden with dedicated trees and plaques, and anchored by The Messenger of Peace, the first sculpture in the city centre by a female artist, Barbara Pearson. That was in St. Peter's Square, but the sculpture is now in storage as the Peace Garden was removed a little over a decade ago to make way for the tram expansion. It has now been relocated in Lincoln Square and includes ginkgo trees grown from seedlings from the mother tree that survived the atomic bombing of August 6th, 1945.
To learn more about the peace trail visit: manchesterpeacetrail.org.uk or discoverpeace.eu.
You can also contact Steve Roman directly at steve[dot]roman[at]phonecoop[dot]coop if you would like him to lead a walk around the trail for your organisation.
---
A Recommendation for your Next Read
In October we were reading Rivers of Power: How a Natural Force Raised Kingdoms, Destroyed Civilisations, and Shapes our World. By Laurence C Smith. (2020).

We all know a river. Maybe a famous one, like the Nile, the Amazon River or the River Thames, or a more local watercourse that runs through your town or city. Whatever and wherever the river, Laurence C. Smith invites us to consider how these geographical features have shaped human civilisation in ways that we do not fully understand yet. Rivers provide humans with access to their surroundings, natural capital, territory, well-being, and, we learn most troublingly as the book progresses, a way of projecting power.
Underneath all the cultural meaning and human value that we have applied to rivers, Smith draws attention to their materiality- the physical features that make them what they are. Rivers carry silt that can be damaging, but also life giving for crops and farmland; stopping the flow of a river with dam may provide hydropower but could also disrupt the flow of water that allows fish to travel to their spawning grounds. Humans are entangled with rivers in ways both big and small.

And so Smith's book shows us that Rivers run through not just the land but our politics, our conflicts and our culture. While he gives wide ranging examples of this both historically and geographically he focuses strongly on the United States and China. But amongst this readers can expect flashes of rivers such as the Irwell (UK) and the Tigris (which runs through Iran, Iraq, Turkey and Syria) and the Seine (France).

These rivers are united with themes of power, control and the often massive environmental (and often human) forces that can disrupt their flow and the lives of those that live around them.

Ultimately Smith explains how and why the river is a force to be reckoned with both physically and culturally, and this book will certainly give you something to think about on your next riverbank stroll!
---
Thank you for your subscription and support!